Welcome to the Boone Elementary PTA website
For questions about the Boone Elementary PTA, please contact the PTA president, Hollie Rouse at
hollie.rouse@gmail.com.
---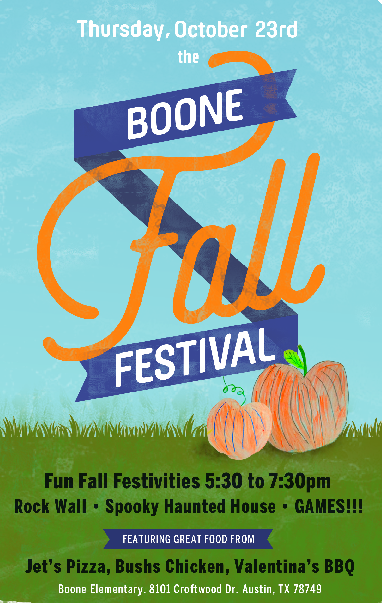 What's going on in October 2014:
Boone Bears -- You don't want to miss the Fall Festival.
When: Thursday, October 23
Where: Boone Elementary
Time: 5:30 - 7:30 p.m.
There will be a cake walk, food that can be purchased, a haunted house, a bounce house, a costume contest, and more.....
Wear your costumes! Join the fun! Cake Walk! Rock Wall! Valentina's BBQ! Games! And so much more!
---
Calling all 4th & 5th Grade Dads!
​Let's start a new tradition for our Fall Festival! We need volunteers to put on the haunted house in the C-Pod. The Fall Festival is Thursday, October 23rd at 5:30 p.m. Please contact Sherina Warstler at sherinawarstler@gmail.com.​
---
CLICK HERE TO JOIN THE PTA.
Now you can join the PTA online.
---
Click here to check out the Boone PTA Officers for the 2014-2015 school year
---
About the PTA
PTA is a grassroots organization made up of parents, teachers and others who have a special interest in children, families and schools. PTA membership is as diverse as Texas is in cultures, education levels and parenting skills. By joining a PTA, a member automatically becomes part of the largest child-advocacy organization in the state - over 630,000 strong across Texas. Our vision here at Boone and throughout the country is to make every child's potential a reality. We are a powerful voice for all children. We are a relevant resource for families and communities. We are a strong advocate for the education and well-being of every child.
One of the ways that the PTA raises funds for activities and programming is through our Annual Membership Drive. PTA Membership dues help support PTA Nights, Spelling Bee, Fall Festival, Science Fair, Technology for the Classroom, Grounds and Safety Projects, Spring Carnival, and much more! Questions? Contact Kirsten Gillman ― PTA President at kvm11@yahoo.com. Feel free to fill out this membership form and drop it in the Boone PTA box in the front office.